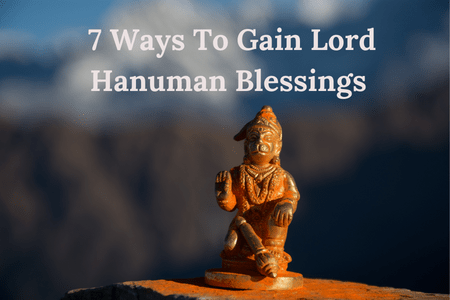 30 Jan

7 Ways To Gain Lord Hanuman Blessings According To Indian Astrologer

Are you passing through various miseries in your life? Are you not able to overcome these challenging situations prevailing in your life? Then, worshiping Lord Hanuman may help you pass this rough phase in your life with ease and perfection. But what are the ways to worship Bajrangbali Ji? Taking help from the Indian astrologer in New York will make one understand various ways by which Lord Hanuman should be worshiped to get his blessings and is idolized across all the continents and is a universal Lord.
These following ways to Get Blessings from Lord Hanuman
Praying for him will lead to the removal of various problems in life. These issues may be about any aspect of life – marriage, career, negative energy removal, and even removing the effects of evil spirits. Worshiping him also makes one gain courage and strength and leads to the reduction of all fears. Let us also list some ways to gain Lord Hanuman's blessings to achieve perfection and success.
Visit Lord Hanuman Temple: It is best to visit the Lord Hanuman temple every Saturday and Tuesday to get Lord Hanuman's blessings. One may also keep the idol of Bajrangbali Ji at home. Worshiping him with a spotless and pure mind helps bring effective results. One must understand from the best astrologer in New York how to worship God in a temple or home to get God's blessings.
Recite Hanuman Chalisa: Reading or reciting the Hanuman Chalisa daily helps overcome even the most challenging problems and issues. Hanuman Chalisa is written by the poet Tulsi Das Ji and is a 40-lines ritual. Chanting Hanuman Chalisa also aids in removing stress, anxiety, and fears from one's life. It is also valuable to chant the name of Lord Hanuman consistently and regularly to feel free from stress and bring good luck.
Avoid Some Food: If one seeks the blessings of Lord Hanuman, then one should avoid non-vegetarian food, especially on Tuesdays and Saturdays.
Light a Lamp: It is also beneficial to light a lamp of sesame or mustard oil after visiting the temple of Lord Hanuman. It is good if one lights it every day, else every Saturday.
Worshipping Lord Ram: Lord Hanuman becomes very happy and gives his blessings if one prays to Lord Ram. Take the Peepal leaf and write the name of Ram on it with the Sindoor or vermillion after keeping the Jasmine oil. Then one should pray for the solution to their problems. One should learn about this remedy from the Indian astrologer in New York and then perform it.
Offering Red Flag: After visiting the Lord Hanuman temple, one may provide the triangular Red flag to the Lord. The name of Lord Ram should be written on it. It helps in saving from various life problems and brings wealth and prosperity.
Offering Laddoos: Boondi Laddoos can be offered to Lord Hanuman to gain his blessings. It will be best to keep basil or tulsi leaves while offering the Laddoos to the Lord. Then this must be eaten and offered to others after offering them to Bajrangbali Ji.
The Final Thoughts
This post has detailed and explored the seven ways to gain the blessings of Lord Hanuman, according to the Indian astrologer in New York. Master Sanjivram has been offering his astrological services to bring perfection to the lives of individuals. In addition to providing guidance and remedies, he has also helped people solve their problems and challenges. Thus, before going for any remedy and finding out the effective way to worship the Lord, it is best if one consults him for accurate results.